January 30, 2003


Search Engine Awards
Search Engine Watch has released it's '
2002 Search Engine Watch Awards
' with Google, Google and even more Google in the top spot. It is good to see
AlltheWeb
in there as second for a few catagories.
January 29, 2003


Overture UK Increase Minimum Bid
Overture UK have just released a statement and 'notification period' whereby from the 6th of February the minimum bid will be 10p.
Here's the spin they put on it:
'New Minimum Bid
In the coming year you're going to see a number of exciting new tools and enhancements to the Overture service that will allow you to capture even more qualified leads from a wide range of affiliate partners, and take your paid search programme to a whole new level. To help make these changes happen and ensure that you continue to receive the highest quality customer service, Overture is instituting a price increase, raising the minimum bid from £0.05 to £0.10, beginning 6th February 2003. '
Overture UK claim to cover 82% of UK Internet users through MSN, AOL, Freeserve, AltaVista, Lycos, Ask Jeeves, Tiscali and others.



January 27, 2003


Ask Jeeves Keyword Network
Ask Jeeves appear to have started their own PPC advertising network the
Ask Jeeves Keyword Network
.
The question here is what will happen to the Google Adwords syndication that is currently appearing as the Ask Jeeves sponsored listings?
Thanks to Kalena for the update.



January 23, 2003


KartOO and Overture
I figure everyone in the industry received the press release
KartOO
sent through today announcing a two year agreement with Overture (it's all over the search engine blogs). Overture's paid listings will appear on the left-hand side of the Kartoo search results page.
January 22, 2003


New Zealand Domain Registration Service Increases Pricing
In the land of domain name registration you hardly expect to see a registry service increasing it's pricing.
Domainz (who previously had a monopoly of .nz domain registration) have just announced an increase from $49.50NZ to $61.87NZ per year. They have also announced 'Domainz Ad-oNZ' which is a basic site hosting/forwarding service that was well overdue.
The introduction of a shared registry system into the New Zealand domain landscape has obviously had a profound affect on the Domainz business model. Still one would question what the point in registering a .co.nz domain with Domainz would be if the .com is half the price (eg. Big Daddy approx. $30NZ per year).



January 20, 2003


Yahoo in the news
Yahoo appears to be hot on the press at the moment;
January 16, 2003


Gator takes bite out of search engines
Reported at
ZDNet
is a comprehensive article on the issue surrounding Gator style pop-up advertising on the net and it's expansion into search engine marketing.
With Gator trialing popping under search engines such as Google and Yahoo with listed results from both Overture and Findwhat there is potential for numerous lawsuits from big players as well as strained relationships with advertisers.



January 15, 2003


Yahoo! Australia & NZ appoints new MD
Clifford Rosenberg has been appointed to the role of Managing Director of Yahoo! Australia & NZ.
Rosenberg has been managing director of iTouch Australia as well as previously being involved with telecommunications and Internet related roles for various Australian and South African companies.
See the Sydney Morning Herald for more info.



January 14, 2003


And how did we do it before the Internet?
Not quite on search engine grounds but of import anyway, here's an article about a well known figure in the New Zealand Amateur Radio Association (who also happens to be my dear old grandfather).
Photo from stuff.co.nz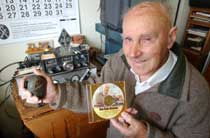 "To talk around the world now is nothing astounding because of the impact of the internet. But in the 1950s it was hard to believe", he said.
"I have travelled a long way through space on this planet earth, 90 times around the sun. It's been quite a journey."
Len Hopkinson - 91 Today
See the full article here : Amateur radio man's memoirs on CD
January 13, 2003


Case resigns as AOL chairman
Co-founder of AOL Steve Case resigns as the chairman of AOL Time Warner Inc. stating
'some shareholders continue to focus their disappointment with the company's post-merger performance on me personally'
. Shares of AOL Time Warner lost more than half their value last year and are down nearly 80 percent since the deal was first announced.
January 10, 2003


Overture Gleeful Over Yahoo!-Inktomi Deal
This from Internetnews.com on Overture's increased chances of keeping the Yahoo! paid listings contract now that Yahoo! is likely to drop it's relationship with Google.
'Overture's chief financial officer, Todd Tappin, said the commitment by Yahoo! to make search a core part of its business will strain its relationship with Google, which currently provides Yahoo!'s algorithmic search results. Overture's relationship with Yahoo!, however, is not considered to be in jeopardy, because there's no indication that the portal intends to go it alone in the paid listings space.'
You can read the full article here, join Overture here or watch time tick by in the most interesting fashion here.



January 08, 2003


Claims and counter-claims
This article from a New Zealand newspaper last month is an interesting debate over the ethics of a particular Christchurch, New Zealand based search engine optimisation company.
Claims and counter-claims - The Press, Dec. 11, 2002
It was brought to my attention from this snippet article in Search Engine Watch's monthly newsletter the 'SEReport':
'New adventure sport for Queenstown, New Zealand. Forget jet boats, bungee jumping and white water rafting. Now you can debate what's acceptable in promoting sites on search engines. A tour operator complains that a marketing company uses duplicate pages and sites, while the marketing company defends itself by saying if the content matches the search term, that's not spam. Um, not really. If you are doing things search engines specifically warn against doing, then regardless of how relevant you think your content is, the search engines may still view your techniques as spamming them.'
I must say I have also seen a few 'spamming style' examples that have lead directly back to the same New Zealand SEO company in question.



January 07, 2003


Hotbot a new force?
If you haven't read many search news sites lately you may not know that
HotBot
have relaunched. Using a simple GUI (Graphical User Interface) that is customisable through various style sheets you can query any one of the Google, Inktomi, Teoma or Fast databases. The best feature would have to be the ease with which you can switch between the SERP's for each search provider.
January 06, 2003


Top Searches of 2002
Search Engine Watch have put together a
list
of the top searches as provided by some of the major players in the industry. Included are Googles
Zeitgeist
, Yahoo!'s
Buzz Leaders
, Ask Jeeves
Top Searches
and others.